Disclosure: This post may contain affiliate links, meaning we get a commission if you decide to make a purchase through our links, at no cost to you. Please read our disclosure for more info.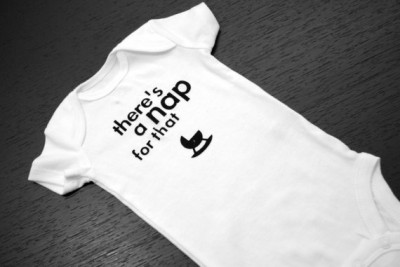 I have to admit that I am a geek. I love Star Wars and Doctor Who. I can still remember Pi. I know what a meme is and how to make one. However I never knew there were geeky baby clothes until just the other day. I ran across a picture that made me wish I had a new baby on the way just so I could dress him or her up in that outfit. Here are some examples of geeky baby clothes that any true geek parent would be proud of:
There's a Nap for That–This cute outfit is for all the iPhone lovers out there. There is an app for everything, so why wouldn't there be a nap for everything as well?
Sewing Wars: Baby Dark Vader–This adorable hand sewn Darth Vader outfit is perfect for all the Star Wars fans out there and their Sith in training. Best of all it comes in sizes from newborn to 18 months, so any size baby Vader is well equipped.
Level 1Human – For the gamer geeks out there this baby outfit is perfect. With a listing of the stats and a cool black background you can have your own real life character in training. Build up strength and dexterity and keep in mind that charisma score, it might come in handy on those late night raids!
Periodic Table Baby–Here is one for chemistry geeks everywhere. Why not make sure everyone you meet knows exactly what your child is made of? With a fun yellow design, boys and girls alike will be proud to be called a BaBY.
Diaper Loading, Please Wait–We are all familiar with the loading bar, but only true geeks could take it this far. While a little on the gross side, it is an admittedly funny and very geeky outfit for your little poop machine!
May The Force Be With You–This one is a combo outfit. First of all you have the famous Star Wars quote, but then you mix in a little physics and what do you get? The perfect geek baby outfit!
Star Trek Uniform Onesies–To boldly go where no baby has gone before. These Star Trek uniforms for the original series are just adorable and come in a wide range of colors for any baby. I do not think I would get my baby a red one though. We all know what happens to red shirts! I am thinking more Spock blue…
The Über Geek Baby–This outfit is just adorable. With a soft and secure bow tie, a cute pair of pens in a pocket protector (drawn) and an adorable appliqued set of thick framed black glasses this outfit will make your baby the best dressed geek on the block!
Input, Output–I have to laugh at this outfit. It is just so true! It seems like everything you feed a baby goes in one end and out the other. Simple and yet hysterically funny.
I'm Acute Baby–Yes you are! This math pun shirt combines the love of language puns with the love of math, a powerful combo. Great for those geek couple who have a math major and an English major living together in (somewhat) harmony.
Baby's First Power Ups–This is a great shirt for classic gamers! From Mario to Peach and beyond you have to smile at the picture of mushrooms, stars and flowers in diapers. While I am not sure I want my baby to grow up to be a plumber, I would not mind playing a few games of Super Mario Brothers with him or her!
Parenting Paperclip Wizard–You may have to be a little older to remember the paperclip, but those who do seem to revere and revile it all at once. However it did come in handy from time to time and with parenting you will use any help you can get!
Bow Ties Are Cool–If you are a Doctor Who fan then you know that bow ties are cool. Why not share this love of fandom with your baby? With a cute red tie your baby will look like a mini Doctor in training. Maybe this time the Doctor will be ginger!
Stormageddon, Dark Lord of All–Another funny Doctor Who baby outfit, this one is just perfect. Yes, all babies know they are in charge, but only the Doctor knows what they are really thinking. After all, we can't all be "not Mum".
Accio Milk–For the Harry Potter fans, of movies or books or both, this is a perfect spell for your little wizard in training! You have got to love the 'scar' font that makes this outfit so distinctly Harry Potter!
But What About Second Breakfast?–I love the font on this baby outfit too! So very Lord of the Rings! If your baby eats like a Hobbit, as many do, you will feel like you have found the perfect outfit right here. After all, what is life without a few snacks thrown in here and there?
Spider Man Baby Tie–For all the comic book fans out there, this is a geeky baby outfit for you. I love the fact that they can make even Spider-man's mask look sweet on a baby. For your little wall crawler, try this Peter Parker themed outfit.
Android Baby – For those who do not embrace all that is Apple, we have an alternative. The Android baby outfit is cute enough to wear and declares your love for things other than Apple.
I Speak Wookiee – Who would not want an adorable Wookiee on their baby's clothes? I love this cute Star Wars baby outfit and I think the drawing is spot on. After all, you should always let the Wookiee win!
Dinosaur vs Robot–For the classic geek, here is a outfit that will knock your socks off. Robots a la RockumSockum, and dinosaurs. What more could you want? With retro graphics and great color your baby will look flash in this get up.