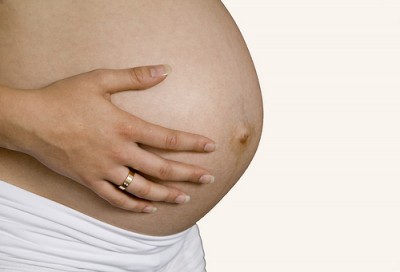 The development of a healthy infant during pregnancy depends on the mother's ability to remain active. The supply of oxygen and nutrients that the child receives is entire dependent on the mother, so that a pregnant woman who gets little exercise will not provide her child with the necessary building blocks for growth and can even risk developing complications. While pregnant women should not engage in rigorous or demanding workouts, there are several easy exercises that any expecting mother can do several times per week in order to maximize the health of herself and her infant.
While it is usually accepted that pregnant women need to eat more in order to provide nutrition for a developing infant, it is not necessary until the latter months of pregnancy for a large increase in calorie intake. In fact, mothers burn more calories breastfeeding after birth than they do carrying their child to term. Any excess calories that are not burned off will only result in extra unsightly fat, so regular exercise can keep a pregnant mother feeling and looking better without much increase in calorie intake.
Cardiovascular exercise is the most important part of any pregnant woman's workout plan. Cardio increases the heart rate and boosts the burning of body fat. While a pregnant women need not get her heart rate to the highest levels, regular workouts that stress doubling heart rate offer more energy for her pregnancy and will lower stress. Simple exercise like quick walking and light jogging will get the heart rate up easily enough. Many pregnant women prefer to use gym exercise equipment like stationary bikes, treadmills, or elliptical machines. You can learn about the best treadmills to walk on here.
Pregnant yoga has exploded in popularity in recent years as women who regularly practice yoga continue their efforts to stay healthy during their pregnancy. In fact, pregnancy yoga is often recommended by doctors since it creates both physical and psychological fitness, which can be beneficial for the stresses of pregnancy. Pregnant yoga is not much different from regular yoga except that it does not incorporate facedown exercises that would strain the developing baby. Yoga classes last between thirty minutes and an hour, increasing muscular endurance over time. In addition to the fitness boost, yoga will increase flexibility and improve balance.
Weight lifting is usually not recommended for pregnant women due to the chance of accidents with heavy objects. Some machine weights, however, eliminate the risk associated with free weights. At later stages in pregnancy, these machines may be difficult to use, but leg extensions, bicep curls, lateral pull-downs, and abdominal crunches can all be done safely by expecting mothers. They need only be done two or three times per week for maximum efficiency, so that a rest day will allow time for muscle to regenerate. Given that muscular growth requires more nutrients, pregnant women who use machine weights for their workout should consume much more protein and calories than expecting mothers who only do cardio or endurance workouts.
About the Authors: Joyce G. is a professional health blogger and writer. She currently partners with Nordictrack.com in raising awareness about the importance of health and fitness.NordicTrack has come to symbolize the means for serious athletes and fitness-buffs alike to "get ready for adventure," whatever that may be. Visit our website and learn about the best treadmills to walk on.